Richard Rodgers Theatre Information
The Richard Rodgers theatre boasts of history, spanning over three decades, it has played host to an endless list of incredible and unforgettable performances! Smash hit musicals such as; Chicago, Anything Goes, Guys and Dolls, Damn Yankees, How To Succeed in Business Without Really Trying, The Best Little Whorehouse in Texas, Nine, and Movin' Out.
You'll find here up-to-date information about the Richard Rodgers Theatre, to help you get the best from your visit.
The gorgeous and grand décor inside of this legendary building will leave you breath taken; ruby red curtains and seating, dazzling gold arches and ceiling Muriel paintings – it's the perfect place to experience a theatre show! And as the curtain calls, you will feel like you have just traveled back in time to when it all began.
Book your tickets and come catch your favorite or a brand new production, right in the heart of New York City, just off of the incredible Times Square, it doesn't get better than that!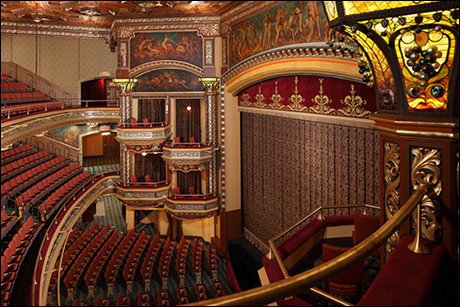 About Richard Rodgers Theatre
An iconic feature of the New York City streets, Richard Rodgers Theatre is right around the block from Times Square. It has just 1,319 seats, so it always sells to packed houses. Since it usually runs long-term shows, you'll probably need to prioritize ticket availability over picking specific dates.
Richard Rodgers Theatre has been called by the Tony organization a "house of hits," as it's hosted such a long succession of famous musicals. These include more Tony Award winners than any other Broadway theatre!
You'll recognize hit shows from the 1950s like Anything Goes, Damn Yankees and Guys and Dolls. You may well have seen Nine, Chicago, or Movin' Out, in the 80s, 90s and Noughties. In recent years, Richard Rodgers Theatre has hosted the musical Hamilton, an international smash hit that in 2016 won 11 Tony Awards, including Best Musical.
Richard Rodgers Theatre Location
You'll find Richard Rodgers Theatre just off Broadway, midway between 7th and 8th Avenues. Its central New York City location is easily accessible by subway, train or bus, and it's only a few blocks from the Port Authority Terminal at 42nd Street.
The street address is
226 W 46th St.
New York, NY 10036
Richard Rodgers Theatre History
When it originally opened in 1925, the venue was known as Chanin's 46th Street Theatre. After ownership changed hands to its leaseholders in 1931, it reopened in 1932 as simply the 46th Street Theatre. In 1982 it became part of The Nederlander Organization, who undertook a substantial refurbishment. When the theatre reopened in 1990 it had a new name, in honor of the late Richard Rodgers (1902-1979).
A further renovation took place in 2006, in order to incorporate The Richard Rodgers Gallery. This is a showcase for the composer's fabled career, featuring lots of historic memorabilia. Further renovation works occurred in 2013, when the decor was cleaned and updated and all the seats replaced. In 2014, all nine Broadway theatres owned by the Nederlander Organization, including the Richard Rodgers, implemented a program of improvement for disabled access.
The auditorium and facade of the Richard Rodgers Theatre building were registered for preservation as New York City Landmarks in 1987. The glazed white brick and terracotta facade in the eastern part of the building fronts the auditorium. It's designed as a Renaissance loggia, comprising three double-height arches, above a marquee over the entrance. Above the arches, embedded Corinthian columns are topped by an ornate carved entablature and balustrade.
The stage house is fronted by the western section of the building, faced in buff-colored brick and standing seven stories high. Inside the auditorium, you'll see a shallow domed ceiling, a large balcony, steeply sloped stadium seating and lots of fancy detailing. There are also two tiers of box seats near the front.
What Makes Richard Rodgers Theatre Special?
Everything about Richard Rodgers Theatre is special, from its New York City Landmark architecture to its Tony Award-winning productions. It's in an easily accessible location, right in midtown Manhattan. The theatre stands as a tribute to one of the 20th century's great popular composers, and continues a century-long tradition of fabulous shows.
As well as improved ADA facilities, the Richard Rodgers provides audio assistance for blind or partially sighted patrons, in the form of verbal description. This offers ADA audience members a detailed account of the production's visual aspects, such as costumes and sets. Deaf or hard of hearing patrons can also get hand-held "I-Caption" devices that provide dialogue captioning.
Who owns Richard Rodgers Theatre?
The Richard Rodgers is one of nine Broadway theatres owned by The Nederlander Organization, under its Broadway Direct brand.
Famous performances at Richard Rodgers Theatre
Hamilton is just the latest in a long line of Tony award-winning shows at the Richard Rodgers Theatre. Its ten Best Musical or Best Play predecessors were:
In the Heights (2008)
Lost in Yonkers (1991)
Fences (1987)
Nine (1982)
Raisin (1974)
1776 (1969)
How to Succeed in Business Without Really Trying (1962)
Redhead (1959)
Damn Yankees (1956)
Guys and Dolls (1951)
Famous Richard Rodgers Theatre appearances here throughout the years include Orlando Bloom, Scarlett Johansson, Robin Williams, Dustin Hoffman, James Earl Jones, Raúl Juliá, Maggie Smith, Mary Martin, Audrey Hepburn, Elaine Stritch and Ethel Merman.